All right, time to start back in with fall cooking.  This is one of my favorite go-tos lately.  It takes less than 5 minutes to prepare, requires no searing (unlike most slow cooker meat recipes) and yields delicious, browned, caramelized, fall-apart meat, with a splash of rich juice to pour over the top.
The secret?  No liquid in the slow cooker!  I know, it seems strange, but there is enough moisture in the fat to break down the connective tissue in a pork shoulder without adding extra liquid.  This intensifies the flavor of the meat.  Enjoy!
Serves 4-6
1/4 cup olive oil
2 tablespoons coarse salt
2 teaspoons coarse ground black pepper
1 clove garlic
1 sprig of fresh rosemary (or one teaspoon dried rosemary leaves)
1 (3-4 pound) pork shoulder roast (also called picnic or butt roast)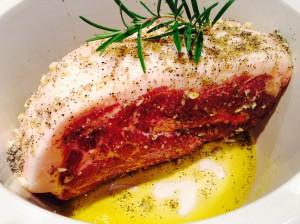 Combine the olive oil, salt, black pepper and garlic in a food process and purée.  Rub the mixture over the surface of the pork roast, then set it fat-side-up in a slow cooker.  Set the rosemary on top of the roast, cover, and cook on low for 6 to 8 hours, until fork-tender.  Meat will lift easily off the bone when ready to carve.  Pour juices on top to serve.