Wool Bedding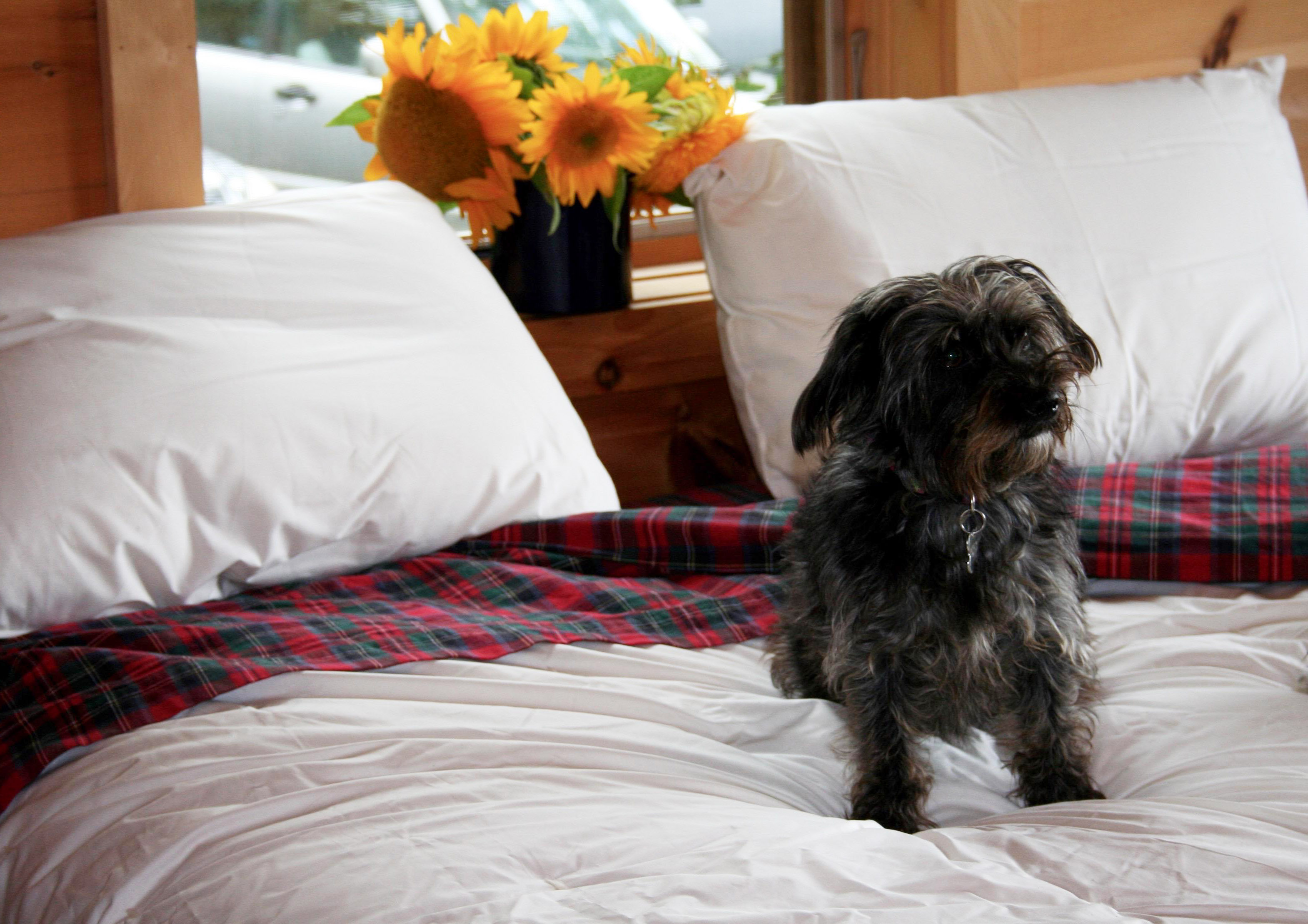 Sleep easier. The wool in these blankets is not carbonized. It is washed in biodegradable detergent, and milled in Michigan, where it is then sewn into an organic cotton cover and hand tied. That means no nasty chemicals added to your bedroom at night. It also means that everyone involved in the production of your blanket — from the farmer to the mill workers, was paid a fair, living wage while working in a safe, chemical-free environment.
Sleep more comfortably. Wool bedding is the superior, more sustainable choice to down, silk or synthetic fibers. Whereas 80% of down and nearly all silk come from overseas, wool is grown in your own backyard. It grows despite gas prices, despite weather fluctuations, despite changes in the economy. And it performs better than any other bedding fiber:
No more night sweats! Wool has superior wicking properties. It has the ability to draw up to 30% of its own weight in moisture away from your skin, keeping you dry and comfortable.
Just-right temperature. Wool bedding stores and releases warmth continuously and evenly through the night, and helps to regulate the micro-climate around your body. It can even accommodate thermal differences between partners under the same blanket.
Hypo-allergenic and great for Asthma sufferers. Wool naturally repels dust mites. Unlike synthetic and down comforters, wool doesn't disintegrate over time and become a breeding ground for those nasty critters that stimulate allergic reactions and aggravate breathing problems. You'll breathe easier on a wool pillow and rest better under a wool comforter.
Naturally flame retardant. Wool's unique cell structure make it naturally resistant to flames. It does not ignite easily, and can even self-extinguish.
Scroll down for return policy.
Wool Blankets
These blankets are woven in Prince Edward Island from the fleeces of our Dorset-cross sheep. Because of the quality of the wool, the blankets are exceptionally soft, lightweight, and warm. We use a mill that guarantees that we get our own fleeces back as blankets, and that does not carbonize the raw wool to remove vegetable matter. You can learn more about why we think that's important here.
These blankets are machine washable, and in fact, they will become softer with each washing (we do recommend that you don't throw them in the dryer!).
We carry two sizes, Queen, which is approximately 76″ x 104″, and  Throws, which are 52″ X 76″ (perfect for keeping by the couch or draped over your favorite rocker for chilly evenings, or for a child's blanket). Individual colors, prices and sizes available are pictured below. Please note: Actual colors of blankets may vary slightly from what appears on your computer screen.
Wool Bedding Return Policy: Sap Bush Hollow guarantees that every item of wool bedding we sell is new and unused.  Even if it remains in the original packaging,  we've learned that wool bedding that goes out to individual homes has a tendency to absorb scents the homeowners themselves may be unaware of, but that our customers (many with chemical/scent allergies) are very sensitive to.  Thus, we are unable to re-sell any returns, and as a family farm, we are too small to absorb the financial burden.  All textile sales are final. Thank you for understanding our inability to make exceptions.  If you'd like to feel the bedding or see the colors up close prior to purchase, please visit our farm store.  Thank you!