Candles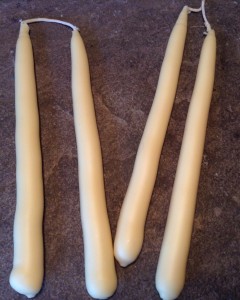 Tallow-Beeswax Candles
Grassfed Candles?!
Tallow candles were once common in every American household. Made from rendered lamb and beef fat, they could be produced by virtually anyone with readily available materials in the home. However, they tended to be smoky, fast-burning and often malodorous. Once paraffin (a by-product of petroleum refineries) became available, tallow candles soon became a thing of the past.
By mixing traditional tallow rendered from our beef animals with natural beeswax, we have created candles that are smokeless, slow-burning and scented with balsalm essence. We are proud to offer these candles that bring cheer to your table, revive traditional craftsmanship, and emulate the thrift and prudence of our ancestors.
Set of 4 (8 inch) hand-dipped tapers. Gift boxed.
$26

---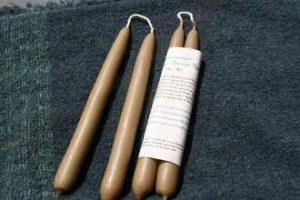 Bayberry Beeswax Candles
Bayberry wax candles have long been prized for their clean burn, beautiful color and, of course, their lovely fragrance. As genuine bayberry wax was (and still is) difficult to come by, bayberry candles were reserved for special occasions, and as such, tradition and lore grew around them: "A bayberry candle burned down to the socket, brings luck to the home and wealth to the pocket." Two parts pure New England bayberry wax is mixed with 1 part natural beeswax to make these tapers less brittle and enhance their fragrance. Set of 4 (8-inch) hand-made tapers.
$32