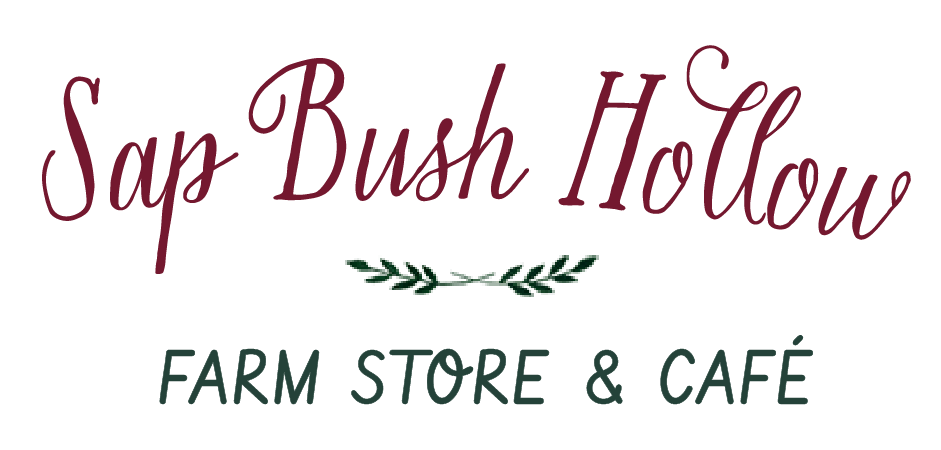 832 West Fulton Rd
Suite 2
West Fulton, NY 12194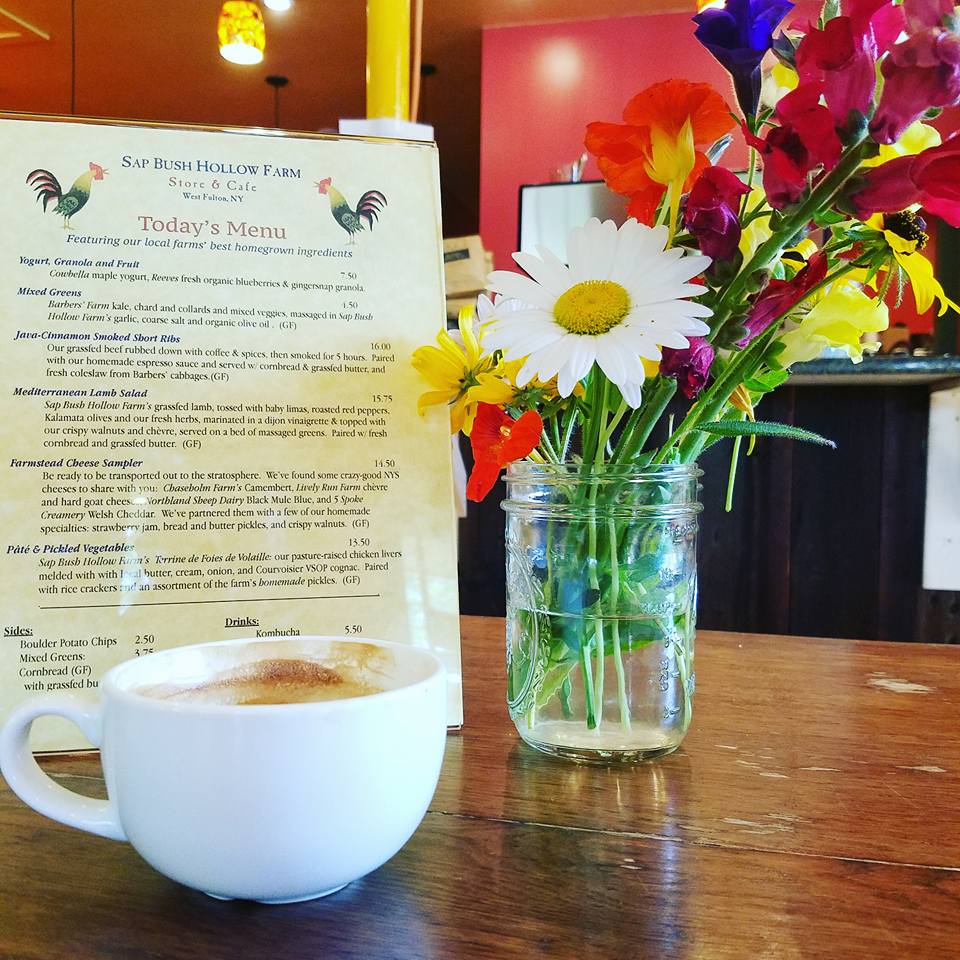 Location, location, location. It's the key to bricks-and-mortar business success. The thought went through our minds constantly back in 2015, when our expanding product offerings and customer base had finally outgrown our farm kitchen/salesroom.
We considered building a store on the farm…A location that would bring people into our private hollow to see how we do things.
But then, we remembered there was a building for sale in our little hamlet of West Fulton: one that holds our post office, and that used to be our firehouse. It had been on and off the market for years. Like our little hamlet, it seemed forgotten.
So we thought more about location. Instead of building an on-farm store, what would happen if we used our farm to help rebuild our community of West Fulton? And what if, instead of just selling farm products, we turned it into a community space?
In 2016, we did just that, opening the Sap Bush Hollow Farm Store & Cafe in the heart of our beautiful mountain hamlet, next door to our Post Office. And beyond all expectations, we created something truly different.
---
EXPECT THE UNEXPECTED
Sap Bush Hollow Farm Store & Cafe is unlike any cafe, restaurant or farm store you've ever visited. Be prepared when you come!
Our Hours:
If there is one complaint we've heard repeatedly, it is this: Why can't you be open more? We are open Saturdays and Sundays from 9-1 Memorial Day through August.  Beginning Labor Day weekend, we switch to fall hours, Saturdays, 9-1. After Columbus weekend we close for a few weeks' rest, and then re-open from November through May for our winter hours, Saturday mornings, 9-12, taking a one week break in February. Why is that?
Because we're a family first, business second.
In addition to the time we need to produce the food that we sell and serve, we want time to play, travel, homeschool, take naps, knit, lay around giggling, swim, hike, stare at the clouds, and to be there for each other in times of need. All of these things matter as much as our business. While the number of hours we're open might change as our children grow and increase their involvement, for now, this is just how it will be.
Our Food:
When we sit down at the table with our kids or our farm help, no one gets an expansive menu to choose from. We serve what's fresh, local, nutritious, and in-season. We keep wheat out of the menu, and we keep all other grains to a minimum. If you want eggs cooked six different ways with home fries and toast, a pizza & burger menu or a surf-and-turf selection, we can give you the names of some great places to go.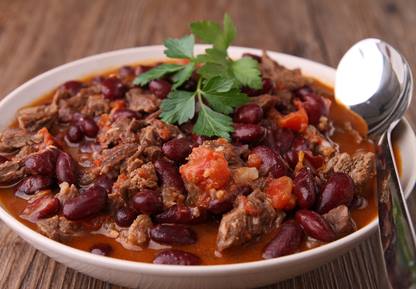 But if you want a meal based on nutrient-dense foods, where the spirit of the land is honored and the farmers are fairly compensated, where you'll feel great afterward…well, then you eat like our family. And if you drop in for a meal, most likely you'll be eating with our family, because the cafe is where we eat our lunch, too. To keep our labor manageable and our quality at its best, we have only one or two dishes that we be offer on any given day, along with fresh house-made pastries. Our menu changes every week with the seasons (and Shannon's whims). We try to keep the price of any meal below $20 (including side salads and dessert), and we're confident you won't leave hungry. To find out what we're serving on any given weekend, please visit the blog or our FB page.
Timing:
We don't rush. This is a slow food experience. Our food takes days to prepare, and we don't want you to feel hurried when enjoying it. As long as you are in the door before closing time, and we still have food, we will serve you, with no rush. Our space is tiny and occasionally crowded, but we will always find a place to let you sit. Stay a few minutes, or stay a few hours (but if you stay a long time, you might have to help clean up!). You are welcome here as part of our family!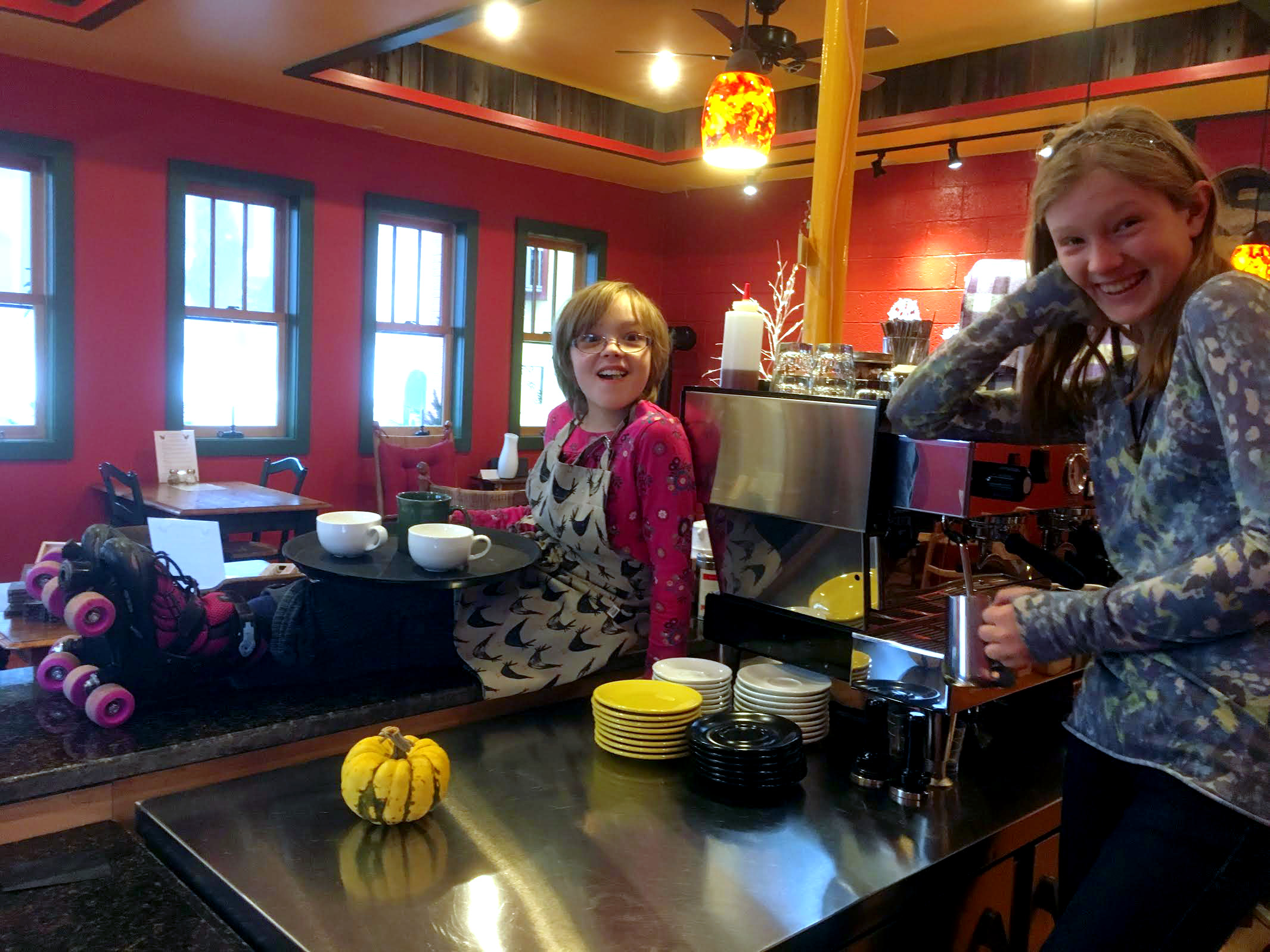 Our servers:
This is a family business. Our oldest daughter, Saoirse, is our primary barista. She will start high school in September 2017. Our youngest daughter, Ula, is still in elementary school. She waits the tables on her roller skates and has dreams of someday being able to make change and work the register. Both our daughters are home-schooled, and this cafe is part of their education. We expect them to be professional, accurate and polite, and to attend to quality. We ask our customers to help them meet these expectations by providing feedback about how we can do better, or by helping them along with making change…or, on occasion, to encourage them not to pull each other's hair or hit each other in public.… You are part of our homeschool community, and we are thankful for your involvement!
Our Coffee: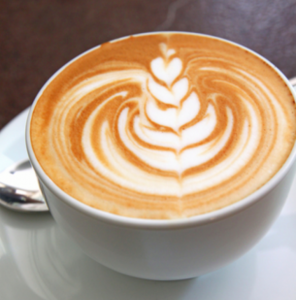 We are as serious about our coffee as we are about our meats. Before opening, Bob and Shannon flew to Seattle to spend 10 days training as professional baristas, studying everything from direct-trade, sustainably-grown coffee, to brewing techniques to latte art. Anyone who works our machines must complete a course with us on tasting, dialing in, and properly brewing top quality coffee and espresso drinks. We are proud to use Plowshares Coffee for our sustainably-sourced fresh-roasted beans, noted for producing some of the best quality coffee in New York State and New York City. You can come in for a simple cuppa joe and some local gossip, meet some friends for lattes, or sit down for one of our meals (read on!)