I'm getting a lot of requests for this post since the weather changed.  Guess it's time to re-run it…
I usually get up each Monday morning and write about meat.  But the first leaves have begun to change color on the trees, and I've begun carrying my knitting basket around with me once more.  And in it is my darning egg.  So today, I'm going to talk about a different form of grassfed protein:  wool.
Nope.  I promise I won't ask you to braise it or grill it.  But I want you to think about darning it.
A few years back I decided to knit Saoirse her first pair of wool socks.  I worked on them for a month.  And the look on her face when she pulled them on her feet was one of pure pleasure.  She wore them non-stop.  And two weeks later, I saw the results.  They were entirely blown out.  I was furious at her for destroying all my hard work.  Secretly, I blamed myself for shoddy craftsmanship.
Then one day, while visiting a woolen shop, I stumbled upon some extra-thick hand-knit wool socks.  I bought them for myself.  I am a hard-core bare footer, despairing of having anything constricting my feet.  ESPECIALLY socks.  But then I tried pure wool, with none of the synthetic fibers woven in for strength that are found in typical factory-made socks.  Like Saoirse, I stumbled upon a delicious new luxury.    Nothing beats the comfort and wicking ability of pure wool.  But a few weeks later, I too, discovered what happens quickly to a pair of much-loved wool socks, no matter how well made.
They get holes.
I thought back to books I've read about the Civil War, about homesteading in the days of yore, and I recalled something rather important.  In quiet moments  at military encampments, or home beside the hearth, folks were always working on socks.  If they weren't knitting socks, they were darning them.  That's because active feet wreak havoc on wool socks, plain and simple.  If you are the sort of person who spends a lot of time with your feet up, your pure wool socks will last forever.  But if you're reading this, chances are you're not.
Since the only socks I could tolerate on my feet were pure wool, I decided it was worth investing in a darning egg.  And therein I was introduced to a pleasure nearly as delightful as knitting and wearing wool socks:  Keeping them in good repair.
Darning is extremely easy.  It is one of those tasks that requires you to sit quietly for a few moments, breath deeply, and allow your sense of touch to fill your body with pleasure as your fingers tell you where your socks need attention.  You'll take delight as you watch the repair quickly shape over the worn spot while you weave the yarn through the breaks and weak points, reinforcing them for more use.
I've found that a pair of wool socks takes on a lovely care-worn look…maybe it's not fifth-avenue vogue, but around here, where frugality rocks the fashion scene, a pair of handmade wool socks kept in good repair through regular darning is a thing of beauty.
Here's how it works.  Darning is simply the process of weaving a patch over any parts of the garment that are wearing thin or that have small holes (Large holes will require a more sophisticated repair, and are probably a sign that somebody ignored the problem for too long.).  Once the patch is woven in, the scales on the wool in the yarn and the garment will rise in the next washing or with the heat and moisture of the next wearing, and then lock together, "healing" the thin spot.  Usually within one or two wearings, the  patched-in yarn and the sock have felted themselves together so well that the wearer will not be able to feel the repair any longer.  Here are the steps: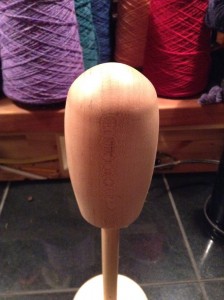 Invest a few dollars in a darning egg.  Cheap ones can be found in knitting stores or online for a few bucks, or you can order a lovely handmade or antique one off Etsy.  I spent a little extra and ordered one in this Etsy shop, because they were making a maple darning egg that was mounted on a wooden stand, which I've found makes my work a lot more portable, enabling me to stand and work if need be (I like to darn in slow moments at my farmers' market, and this stand makes it possible to drop my work easily and help customers).  They don't seem to have them posted in their shop this morning as I write, but I'll bet they'd make it to order.  You will also need a darning needle or a tapestry needle — something with an eye wide enough to accommodate your yarn.  I often prefer tapestry needles because I like the blunt tip.  It snags the wool less.
Each time you fold laundry, take a moment to run your fingers over your wool socks, scanning for tiny holes or thin spots.  If you detect any, do not return your socks to the drawer!  Add them immediately to your darning pile.  Further wearing will only create further work (remember the maxim:  A stitch in time saves nine!).
Get yourself a really good cup of coffee or a mug of tea. Or a martini (while I've found that I cannot knit with a martini at hand in light of the concomitant errors, I can successfully darn).   Find a ball of wool yarn.  Try to match the yarn to the weight of the yarn used in the sock.  This will help to keep the repair more smooth and less detectable during wear.  That said, if you don't happen to have matching weight yarn, use whatever wool yarn you do have.  Making the repair in time is more important.  The lumpy texture of the mismatched wools will eventually thin down with wear and become virtually undetectable.   (Admittedly, I am a bare footer, so my feet might be less sensitive than most folks'.) For the sake of creating contrast in these photos, I chose a worsted weight yarn that I've woven into the sport weight socks.
Turn the sock inside out and slide it over the darning egg so that the thin spot or hole is spread over the widest section of the egg.
Promise yourself you will NEVER tie a single knot when darning.  It is not necessary, and a knot will be felt forever.  It will not wear smooth.  The yarn will lock itself down through the back and forth stitching and through natural felting with wear, making a knot unnecessary.
After cutting yourself about 12 inches of yarn, thread your needle, then insert it a few stitches outside the hole or thin area.  Zig zag back and forth across the hole vertically, creating a patch of parallel stitches covering the weak spot.  
Next, turn your needle perpendicular to your work, and begin weaving the yarn in and out of those parallel threads, until your stitching has formed a patch of interlocking strands of yarn.  
Always be sure to extend your stitching a few millimeters outside the weak part of the sock.  If you only work in the weak area, the repair will deteriorate within minutes.  You want to repair the weak area, and simultaneously reinforce the "healthy" stitches surrounding it.
Clip your yarn, turn your sock right-side in, and marvel at your handiwork.